Maine
In July 1819, the people of the District of Maine, voted and approved independence from Massachusetts, becoming its own state, Maine.
On March 15, 1820, Maine was admitted as the 23rd State of the Union.
Maine, containing approximately 33,128 square miles, is bounded on the east and south by the Atlantic Ocean and is bordered on the north by Canada and by New Hampshire state on the west.
The Maine Assembly Seal
This Seal (featured right) is affixed to all Lawful documents pertaining to the Maine people and their original Land Jurisdiction Assembly. In 2021, this version of the Seal was adopted by the Assembly on July 17th and, after minor adjustments, officially published on August 16th.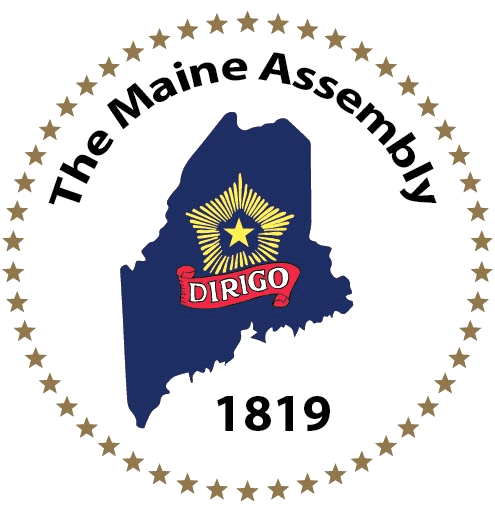 This Seal (featured left) was created when The Maine Assembly was first called into session. Through further research into Maine history and the history of the Maine flags, the Assembly proposed to update and create a new Seal design that more accurately reflects the Maine Land and Soil Jurisdiction in its symbology

The Maine Flag
Adopted in 1901, this was Maine's original state flag. It was replaced in 1909 by the one seen atop the State House today.
The US Civil Flag
When flown over our State buildings and at our domiciles, this flag indicates that we are both a People, and a State, at Peace.
Today, we Maine State Nationals fly this flag at our homes and businesses to indicate that we recognize these locations are places of Peace on the Maine Land and Soil.
Most people are more familiar with Old Glory - our US War time Flag - also popularly referred to as "the Stars and Stripes". Old Glory has continued to be flown over our Governmental buildings since the end of the Civil War, indicating that a "state of War" continues, as franchises of the Municipal and Territorial Federal Corporations have been running our State's branch of government claiming "in emergency capacity" in our "absence".
We need to finish "Reconstruction" of our American governmental branches and resume our duties to relieve these corporations of their "presumed" contractual responsibilities.
Declaration of Independence
As Maine State Nationals and Americans, we stand on the Land Jurisdiction under our unalienable Rights as outlined in the Declaration of Independence.